Create Documentation using any Templates, create Daily Records of Children to inform Parents of their Child's Sleeping, Eating, Toileting, Nappy Changing habits while in care, upload Photos and Videos, attach Files, Interlink Documentation, request Parent Input Forms, send Parent Reminders, submit Educator Forms, Newsletters, Incident Reports, Link to Australian Framework Outcomes, generate Reports, add Comments, Likes, receive Digital Signatures, send Private Messages
and do so much more.
Mobile App
Install Appsessment Mobile App on your device and access your App effortlessly
You can use your App from laptop, desktop, tablet or mobile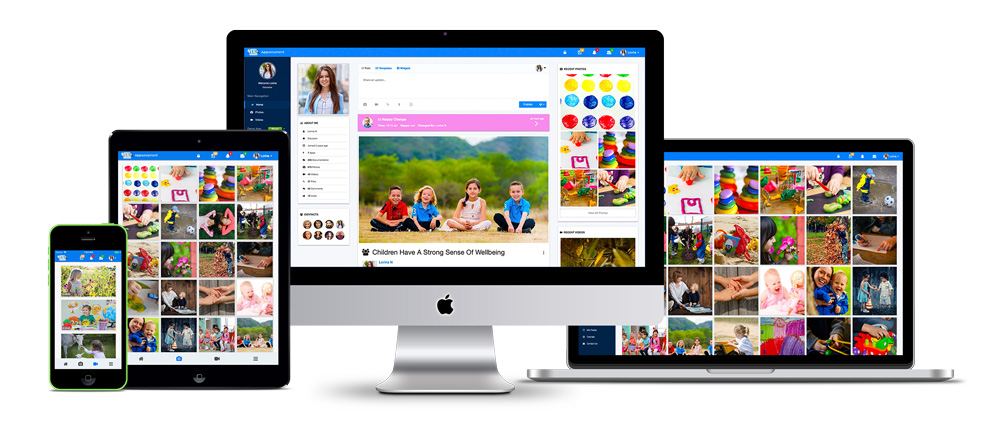 Other Features In Appsessment
Photo Gallery
Parents can view their child's photos in their photo gallery.
Video Gallery
Parents can view their Child's videos in their video gallery.
Profiles
Educators have a profile which shows all their activity.
Permissions
Set permissions based on the educator's role.
Drafts
Save work to continue later.
Notifications
Receive app notifications, push notifications or emails.
Private Messages
Send private messages to Educators and Parents.
Lock Screen
Keep documentation private while away from the computer.
Frameworks
EYLF, MTOP, QKLG, VEYLD, NQS, Numeracy and Literacy Indicators, Theorists, Developmental Milestones.
Rooms
Create your own room names or use the default names.
Category Tags
Tag documentation to interlink them and group them by categories.
Digital Signatures
Sign important forms and documents digitally.