Appsessment 1.12 - Default Templates, Remember Me, Template Fields, PDF Features and more
Sunday, 18 February 2018
News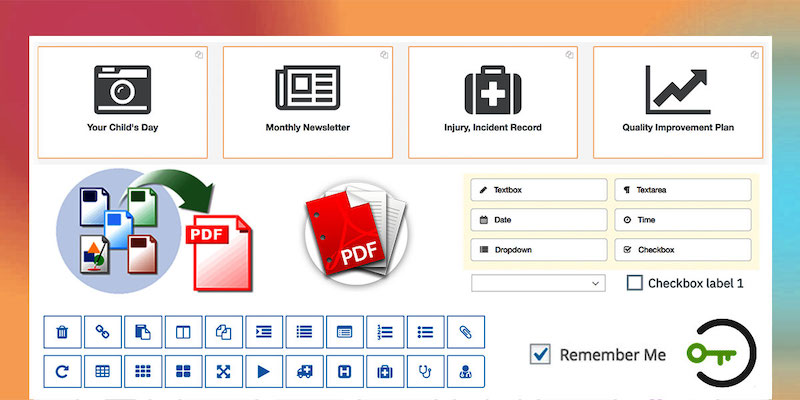 Appsessment version 1.12 is now released and there has been a lot of updates and new features included in this version. Here is a summary of features that are released:
1. Remember Me functionality for Logins:
A lot of users, especially parents, have requested us for an easy login feature so they don't need to manually log in each time when they are using their private device. Therefore we have added the "Remember Me" functionality for logins. By selecting Remember me, you will not need to continually sign into your device to use Appsessment and you will remain logged in for a longer period before you re-authenticate yourself. Please only use this feature in your private device and only if no one else can access your device in order to ensure the integrity of the data is protected in your App.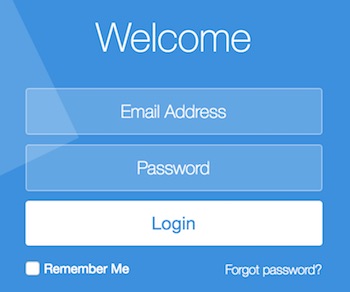 2. 4 New Default Templates:
We have included 4 new default templates: Quality Improvement Plan, Incident Report, Your Child's Day and Monthly Newsletter. The Quality Improvement Plan template will help you to reflect on and improve your service and to ensure your service is meeting the requirements of the NQS. The Child's Day template is a basic template you can use to share only photos and no need to complete any fields. The Incident Report is a form you can use to complete in the event of incident or injury and the Monthly Newsletter can be used to send newsletter updates to parents.

3. Dropdown and Checkbox fields in Templates:
You can now add 2 new form fields to your templates and documentation. When creating your own templates you can choose to add drop down lists and checkboxes. After choosing these forms fields, you can include the options you wish to show in these fields that will make it easier when completing your documentation. The checkbox and drop-down fields were requested by a few educators so we have included this feature in this release. These two options can now be added when creating your own documentation or when editing default templates.

4. New Template Icons:
We have added 22 new Template Icons that you can use when you create your own Custom Templates.

5. PDF Download directly from Notifications:
When you export documentation or reports to PDF, you can now easily download that file directly from the link in your App notification itself without leaving the page. This will save you time and make download easier since you won't be redirected to the downloads page.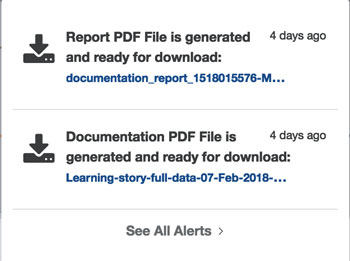 6. Download PDF from Documentation List page:
The documentation list page has the PDF export option so you can export documentation to pdf for printing or record keeping purposes directly from this page without needing to open each documentation individually. This button will be visible on the Laptop and Desktop views.

7. Save As Copy in Documentation Forms:
When you edit your documentation, you can create a copy of that documentation directly from the form page itself by clicking on the "Save As Copy" button. This will make duplicating the documentation much easier in cases where you need to create a similar type of documentation for different children separately.

8. Export large Reports to PDF:
We have improved the pdf export feature for Reports so you can easily export large reports without any errors.
9. Security Update on Images:
We have changed the way authentication check is done when images are served in Appsessment to enhance the security of the App. After this update if you are unable to view the images, please refresh your page if you are using our Web App or update your Appsessment Mobile App from App Store or Google Play.
10. Many Other Changes:
Apart from the above, there have been several other minor changes and edits such as:
Removed the old NQS Outcomes since they are Obsolete.
Updated Terms of Service to reflect the changes regarding the Remember Me login feature.
Minor changes to UI in forms and documentation.
Many other fixes.
The above are just the highlights of some of the features we have added in this release. Most features in this release have been requested by our users. Please remember, if you have any request in mind, feel free to reach out to us. We listen to all requests from our user and we will add it to our milestones and include it in Appsessment if it's helpful to all. So, let us know!
If you are using our Mobile App, remember to update your Appsessment App from the App Store or Play Store. If you are using Appsessment from your browser, please refresh the page in order to ensure the latest changes are updated in your computer.
Thanks again for all your support and we hope you're enjoying using Appsessment.
If you are yet to try Appsessment, get started today. You have to try Appsessment. You can manage all your children documentation from this App, create custom templates as per your needs, parents will have their own timeline to view updates on their children, request parent inputs, send parent reminders, generate reports and do a lot more! Our features are so unique and we release so many new features in a record time. You have 14 days money back guarantee period so you can try Appsessment. There are tons of features that will make your documentation process a lot easier and more streamlined. Try it today and you will love it.
That's all for now and we are eagerly looking forward to the next big release, that is "Video Uploads"! Stay tuned for more new amazing features coming up in Appsessment.