Appsessment 1.9 - Generate A Variety Of Reports In Appsessment
Saturday, 7 October 2017
News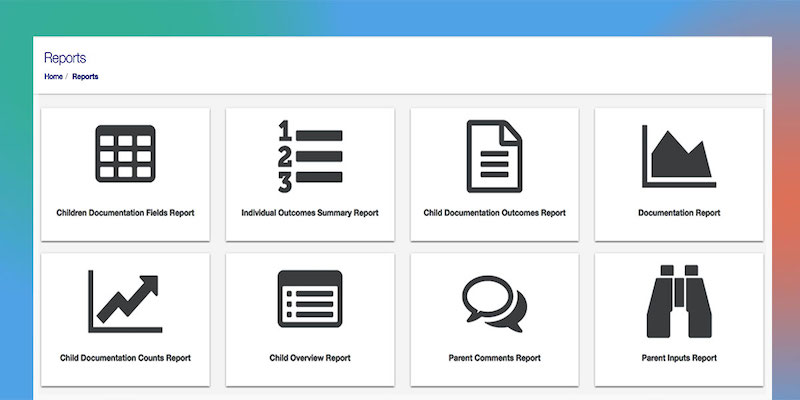 Appsessment version 1.9 is now released and this is a big release with a new awesome "Reports" feature. Following our user's requests, we have now added one of our main features to Appsessment, the ability to create Reports. Reports is a very big feature in Appsessment and we have given it a lot of importance in implementing it the right way. Generating reports and getting an overview of a progress is very important for you as educators and Appsessment gives a special importance to this since we believe this is one of the key features that could help you as an educator tremendously. Hence, we have developed a very comprehensive reporting feature in Appsessment that you can use to get a summary of various information in your Centre's App.
Types of Reports:
The types of report that you are able to generate in your Centre's App include:
Children Documentation Fields Reports:

This is very helpful to view the Child/ren report with a summary of fields in a report table format. For example, if you want to see a report for a child that lists the Child's interest you had added in their documentation, you select the documentation field and the report will be generated showing you the child, documentation name, date it was recorded and the summary of child's interest field from that documentation. Another example will be creating a summary of activities planned for a child by choosing the field you had created in your documentation. You can use this report to generate any type of documentation summary by selecting fields you wish to see in a table format.
Individual Outcomes Summary Report:

This is a very useful report type that will give you an individualised summary of each outcome a child had achieved, along with the documentation name and date. It will put together a report on a child's development and learning and summarise these in each individual learning outcomes. You can also include other additional fields from the documentation to list in the report. This would be very helpful when sharing an assessment of learning with specialists or support services.
Child Documentation Outcomes Report:

This report will list all documentation created for the child that is linked to the selected outcomes along with the full details of outcomes that are linked to their documentation. The result will be displayed in a table format.
Documentation Report:

Documentation Report is used to see a preview of all documentation you have created between the dates and you can narrow the search based on Children and Category Tags. The report will be generated with a summary of all information you have selected. For example, if you wish to see all the Learning Stories you had created with a summary of a field along with its outcomes, you select the respective options and the report will be generated with this information.
Child Documentation Counts Report:

This report shows you the total number of documentation created for each child under each category tag. Its an overview of the total counts between the date range.
Child Overview Report:

This is an overview report that shows highlights and counts of various details related to the child such as the total number of parents linked with that child, number of documentation created, parent inputs submitted by the parents, parent comments, likes on their documentation and the last documentation date for that child. A quick overview of child's data.
Parent Comments Report:

This report shows the list of all parent comments, the documentation name, date of comment, parent name, and the related children. You can use this to get an overview of all the comments posted by parents related to a child, room or all in general.
Parent Input Report:

This report generates a table list of all parent input forms that are submitted by parents along with the parent input name and date of submission.
As you can see, we have a comprehensive set of report types for you to analyse various aspects of the child development, progress, outcomes achieved, parent participation, documentation summary, planned activities and much more. After generating the reports, you can even export them to PDF format for printing or record keeping purposes.
Introducing Category Tags in Templates:
The category tags are the most important underlying foundation for generating reports. Tags are used to categorise the documentation you create and this will be helpful to search, analyse and generate a report. When tagging a documentation, the App will automatically search all documentation based on this tag and create a report. Previously, you were only able to add tags when creating the documentation. In this version, we have now added the feature to add the tags directly in the Template itself. So when you create a documentation based on that template, the default tags will be automatically populated and hence saving you time from adding in manually to each documentation.
The report feature will give you the efficiency to keep track of all types of documentation you create by providing you with numerous report options. From developing a report to see individual child learning outcomes, to creating a report based on parent comments. We have a variety of reporting options for you to choose from which can then be used to analyse and inform your ongoing practice.
We hope you like this new feature! If you are using our Mobile App, remember to update them to the latest version from the App Store and Google Play.
For detailed information on how to create reports and each report type, please check out our Tutorial on Reports.
If you are yet to try Appsessment, click here to get started today. You can trial Appsessment with 14 Days Money Back Guarantee and our plans starts from just $10 per month on a no-contract!