Appsessment 2.9 - Widgets Reports
Tuesday, 4 June 2019
News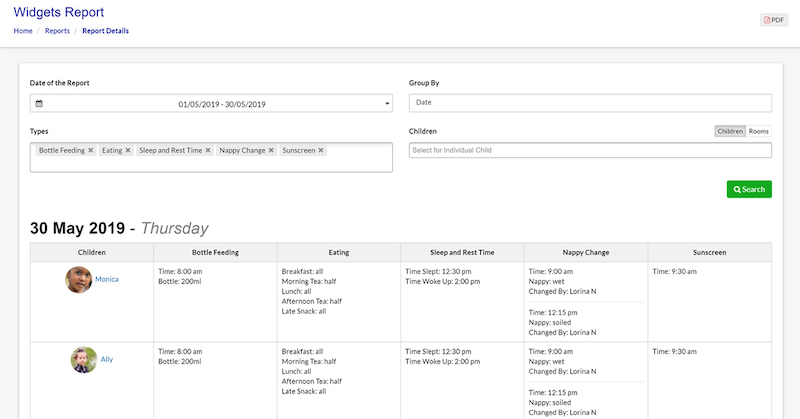 A new update to Appsessment has been released today and you can now generate Widgets Reports and Attendance Reports. This is a very useful tool for educators since you can now generate widget reports and export them to pdf as well. Here are the new features:
Widgets Reports: You can find this option in the Reports page and you can generate 2 types of reports; (1) based on dates that list each children and their widget entries on that date or (2) based on a child with a listing of each date and its daily records in a nice table format.
Attendance Reports: You can also generate Attendance Reports where you can generate the list of children in attendance for a particular date (or) view a child's attendance report with a list of all dates of attendance.
Export to PDF: All reports can be exported to PDF which you can download.
PDF Buttons in Widgets Pages: When you go to individual widgets page, you can quickly create a PDF of the lists that you see on page. This is a quick pdf generation button that will be handy and the full reports can always be accessed by going to the Reports page.
Show Date in Widgets Slides: When Parents are viewing the widgets updates from a mobile phone, they can now also see the date of that entry which avoids any confusion.
Duplicate Field button in Templates and Widgets Settings: When you are creating custom templates or editing the documentation template fields or when adding custom fields to widgets settings, you will see the 'Duplicate Field' button which allows you to quickly copy that field instead of adding a new field and moving it to the location each time.
The above summarises some of the features added in this update. This version update is also be available for mobile devices that can be downloaded from App Store or Play Store.
With these updates, we feel the widgets features are pretty complete since you now have a choice of 8 different widgets to document the daily records of children, ability to customise these daily information forms as per your needs and also able to generate reports and export these reports to PDF. We hope you find great use to these new features.