Appsessment 3.5 - Templates, Documentation and Private Messages Features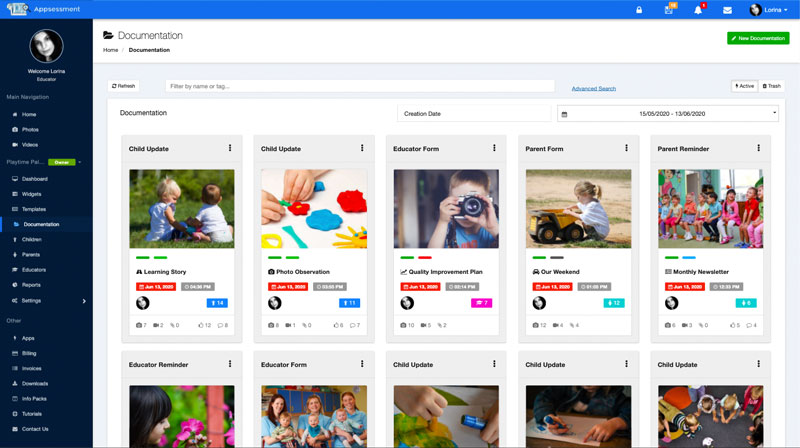 The past 2 months we were working on tweaking a lot of things in the Appsessment App and included various requested features from our users. As a result, you can now find new features in Templates, Documentation, Private Messages, Mobile App and Bug fixes. Since this update includes a couple of breakable changes, we request our users to have a quick read and if you are using our Mobile App, its best to update your App to version 3.5 so you have the latest stable version installed. Below is the list of the main features included in this feature.
1. Educator Forms and Educator Reminders:
In our previous version, it was already possible to send educator reminders and submit educator forms using the 'Educators Only' option. However, in order to streamline the entire process and have these 2 features work very similar to the existing Parent Form and Parent Reminder features, we created 2 new documentation types as Educator Forms and Educator Reminders. What this means is, you can now create a separate template specifically for these 2 form types and then when creating documentation using this template, you can select the Educators involved similar to the way you select children or parents in other form types. Also, educators can now request educator inputs by sending them an educator form which will trigger an alert in the educator's portal so they can complete the form and submit it back to you. These 2 features now streamlines the entire documentation types completely because when you create templates from now on, you can now set the form type as:
Default Form: Used for Child Updates and all standard documentation.
Parent Form: Create a Parent Input Form to send to Parents to fill-in.
Parent Reminder: Send Parent Reminders to Parents.
Educator Form: Create a Form to send to Educators to fill-in and submit back.
Educator Reminder: Send Reminders to Educators.
All templates created using Educator Form and Educator Reminder template types are automatically hidden from Parents. The 'Educators Only' option that we had previously is still there for all Default Forms so when you create child updates and wish to lock it to educators only, you can still check the 'educators only' option like you did before. Due to the introduction of the above 2 separate documentation types, it involves some breakable changes for the older versions. If you are using our Mobile App before version 3.5, then the educator only feature in the form and home page posting will no longer work. As a result, we recommend all educators to update their mobile app to the latest version so the new features and the changes work with no issues. If you are using our web version, then the app will be automatically updated when you visit Appsessment next time from your browser. Apart from these changes, we have also included 2 new permissions that allows you to enable or disable the permission for educators to send educator forms and educator reminders from your App. These 2 permissions are enabled for all educator roles at the moment except for the Assistant role. If you wish to disable them for some roles, you can edit it using the custom roles in your App Settings.
2. Star Images for Banner Photos:
When you upload photos to Documentation, some of these photos are automatically selected to appear in the Banner images at the top in the Home page timeline and in the Documentation preview page. Now, you can star some of these photos so the banner images use these starred photos to show in the slideshow. This way you can control what images show up in the banner slides at the top. You can easily star images in the documentation edit page under the 'Images' tab.
3. Link Unpublished Documentation:
When you Link Documentation in the Documentation Form page, previously you were only able to link other documentation that was already published. Some educators wanted to be able to link unpublished documentation as well so you can publish both the updates at the same time. As a result, we have updated the Link Documentation feature to allow you to link unpublished documentation too.
4. Show Interlinked Documentation Info to Parents as well:
When parents view the documentation details, they can now also see the other documentation that it links to. Previously, these links were only visible to educators. Now we have extended this to be visible to parents as well. However, they can only open these links if they have permission to view it.
5. Hide some Templates from showing when posting from Home Page:
Previously, when you create a post directly from your Home page using the Templates, it lists all templates from your App including the default ones as well as the custom ones you have created. Some centres might like to hide some of the default templates or some specific templates from appearing in parents postings or for educators so they can only use the templates that use a specific format they have created in their custom template. As a result, we have now included a feature that allows you to hide some templates from showing in the Home page simply by clicking on the settings icon for that template and selecting the 'Hide' option.
6. Allow Users to Mute Notifications in Private Messages:
There were times some parents or educators would like to opt out of a specific private conversation and don't want to be notified of new messages in that conversation. We have now included the 'Mute Notification' feature for all private messages so recipients can easily mute new notifications from a conversation.
7. Export Templates to Other Apps in your Account:
Users who have multiple Apps in their account, such as multi-centres or FDC Schemes, can now easily export a template from one of their App to other Apps in their account. This saves them time from creating the same template for each App one by one. You can now export templates by clicking on the settings icon for that template and clicking on the 'export' button. This button will only appear if you have access to multiple centres apps from your account.
8. Order Documentation from Oldest to Newest:
In the Documentation listing page, the default order for the documentation was from most recent to the oldest date. We have added more filter options to the documentation listing and the search page so you can easily change the order from oldest to newest if you like.
9. Documentation Page has been Redesigned to show Preview Images and Documentation Statistics:
We have updated the Documentation List page with a new layout that now shows the preview of the documentation image and the details in a card style layout highlighted with its labels so you can easily spot and identify the templates. We feel the new layout is a good improvement from the table layout from before.
10. Custom Role to Disable Receiving Private Messages or Reply To Private Messages:
Some centres would like to have the option of having a separate permission to disable receiving and reply to permissions for some educators in Private Messages instead of disabling for all educators automatically. So, we have now included these 2 permissions and you can now disable these permissions in the custom roles created in your App Settings.
11. A lot of other Changes and Fixes:
Apart from the above features included in this version, a lot of fixes and minor features have also been included. Some of them are the new filters in the Private Messages Compose page, Parent selections in Parent Forms and Parent Reminders now allows you to select parents based on days and attendance, easy unsubscribe links in email notifications, select all form fields option in documentation reports, fixes for some devices in our mobile app and much more.
Make sure to update your Mobile App to version 3.5.0 by going to App Store or Play Store, search for Appsessment and click on the Update button. Since this version includes breakable changes, it is best to update your Appsessment App to ensure all new features and existing features work well.
If you are new to Appsessment, click here to get started.